Here, this article will introduce 7 trends of running the most effective Facebook Ads in 2021 for you – experience from real-life lecturer Nguyen Phan Anh
Trend predictions running Facebook ads 2021 more effectively. Before that, 2020 was a year that seemed to be a nightmare for people running ads on this platform. Even the most skilled and skilled advertisers have to bow their heads.
But no matter how Facebook Ads has changed in terms of algorithms or policies. There will still be trends that are considered a guideline for Facebook advertisers to implement throughout this year, 2021 is also a year marking many difficulties and obstacles in advertising for advertisers. There are a lot of reports due to account disabling. Running Facebook Ads is not as easy as it used to be. Specifically, you only need to read along PA Marketing go find out right below here.
1.Deliver ads on News Feed.
Still the most popular and effective ad serving place on Facebook. News Feed will continue to be the place where businesses exploit and continue to stick this year. To dig deeper into target user behavior.
Facebook 2021 Ads in News Feed appear directly into the view of users as they surf Facebook. And like it or not, they have to see this news before scrolling on to another. Therefore, advertisers still favor this ad position today.
News Feed ads
Numbers related to News Feed ads:
About 58.2% of Facebook ad budgets by businesses are delivered on News Feed.
82% is the average click-through rate for ads from News Feed ads. This number is larger than other forms of Facebook advertising.
It can be seen that, thanks to the high click-through rate, the high conversion click-through rate as well as the outstanding display area. News Feed ads will continue to be the dominant force in 2021 and an effective 2021 Facebook advertising trend.
2.Advice on Facebook Ads 2021 – Personalize Facebook Ads 2021.
Personalization is not a new term for us at this time. However, the fact that it appears in this list of effective Facebook advertising trends 2021 means that: Facebook ad personalization will continue to be the top consideration for advertisers. The marketing funnel conversion will also be a classic practice. But for the better, you need to customize your content to a small audience.
So that marketers and advertisers will continue the trend of strong personalization. stronger in Facebook 2021. But ad personalization will only succeed when you put yourself into the perspective of potential customers to understand them. As well as standing on the customer side to understand and capture user psychology.
3.Facebook Ads – Facebook Stories.
Short messages in the form of Stories are also gradually becoming popular on most social networking platforms not only Facebook such as Snapchat and Instagram. Accordingly, Facebook is also not out of the game.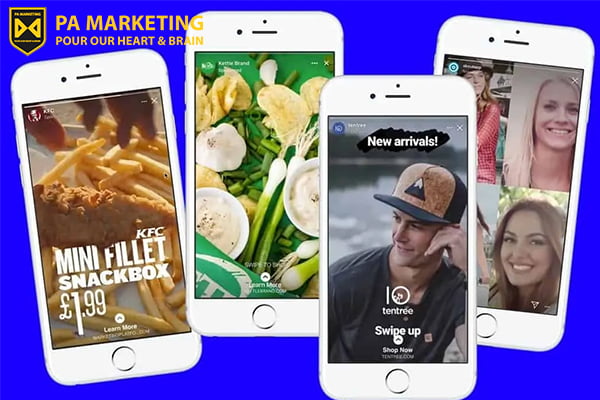 Facebook Stories Advertising Trends
The most prominent feature of this Facebook feature is video marketing in the form of short videos. Today's customers are increasingly demanding that they experience their content on Facebook. There's so much to see, so what's cool, conveys the message faster, more effectively… Will often be the user's first choice.
Facebook Stories is also very easy to use. , fast production and fast shipping. Moreover, with the first investment in making stories like this. You will not only be able to create ads running Facebook 2021, Instagram. It can also be posted on many other social platforms.
4.User Generated Content.
Using user-generated content is slowly becoming a key marketing method for many brands. This advertising method helps to reduce marketing costs. This is also the first benefit that this trend brings to businesses. Because quality image and video content is created for free by customers. Therefore, it is still the trend of running Facebook 2021 ads used by many advertisers.
Especially during the recent epidemic, having to stay at home makes users more active to participate. interact. Get creative and create more interesting content on Facebook. Businesses that know how to capture this wave have also and will reap more profits while spending much less.
5.Augmented Reality (AR).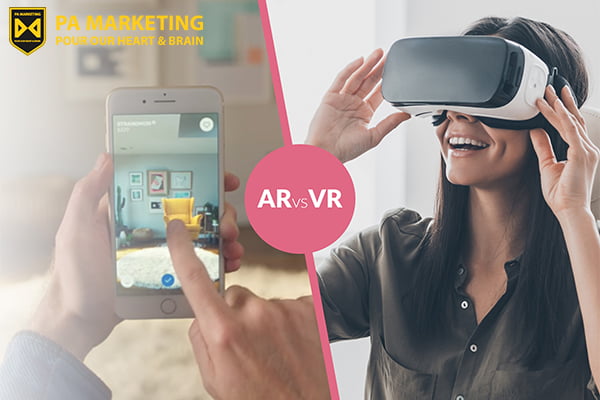 Difference between AR and VR
Augmented reality is more than just a step forward in technology. It is gradually integrating into the current online advertising market. But you also need to keep in mind that: Augmented reality (AR) is different from virtual reality (VR). AR strives to create unique and entertaining experiences based on virtual, computer-operated augmented reality. And VR creates a completely virtual world.
More and more companies are starting to use AR to interact with customers. Help enhance the customer experience with the brand. For example, it can be said that furniture retailer IKEA or shampoo brand Clear. Question: Are you ready to use AR for Facebook ads 2021?
6.Video- the most effective format for running Facebook 2021 ads.
Video content still shows its influence and effectiveness in advertising. Video has a distinct advantage over other forms of content when it comes to advertising on Facebook. The numbers below show you that despite being "later behind", video content has grown tremendously.
Video makes up about 17% of all content types on Facebook.
The growth rate of video content on Facebook in the third quarter of 2020 was 2.6%. compared to the same period last year.
The fact also shows that hearing and seeing is always a way that the brain receives information faster and more efficiently than reading. Therefore, advertisers need to have campaigns to transform content to meet the very human experience. Understand this customer psychology, optimize, shorten the video script and focus on the quality of the content.
7.Track the customer journey to optimize Facebook ad conversions 2021.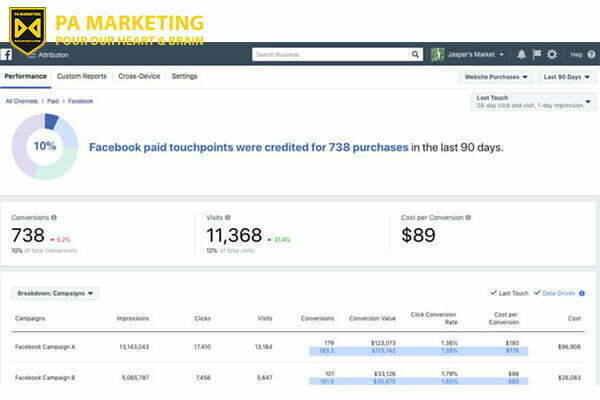 Facebook Attribution Tool application to measure the performance of Facebook ads in 2021
Understanding thoroughly about consumer behavior, buying psychology… of customers is very important. This will help you determine which Facebook advertising strategies are working and which are not. How to get the biggest ROI on Facebook advertising budget. Accordingly, Facebook has also provided advertisers on this platform with a powerful tool called the Facebook Attribution Tool. This is a Facebook properties tool.
Facebook Attribution Tool allows advertisers to see whether customers are coming from mobile or desktop, Messenger app or other networks, Facebook or Instagram, etc. In 2021, this tool is expected and becomes an indispensable object for you to run Facebook ads 2021. As Facebook bids are getting higher and higher and ROI is decreasing.