Advertising light boxes are box-shaped signs with lights on the inside, they can light up at night to help promote and sell businesses of many businesses/stores. Depending on the cost and specification of the light box you want to make, there are many different types of light boxes.
The following are some of the most popular types of signs on the market today:
Hiflex light box
Alu negative light box
Mica light box
Ultra thin light box
Box Floating lamp
…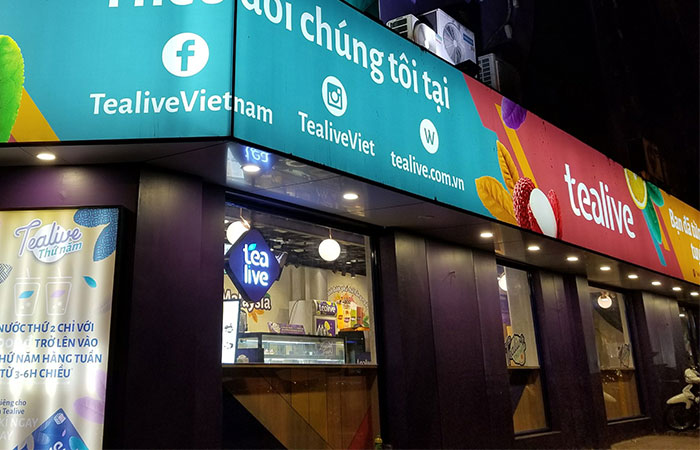 Structure of advertising lightbox
The most popular and affordable light box used by customers today is the hiflex light box. Therefore, we will send you information about the structure of the hiflex light box right below.
Hiflex light box is a light box with a surface made from hiflex canvas. After printing, the canvas will be stretched onto an iron frame and fitted with lights on the inside, with aluminum and stainless steel rims on the outside to make the sign more beautiful and aesthetic. In addition, you can optionally add corrugated iron on the inside (in the case of corrugated iron inside, the light will be installed on the outside).
Hiflex light boxes usually have a thickness of 12 – 15cm depending on the size of the light box you order large or small. If the thickness is larger, the lighting effect will be less. Most other types of light boxes like mica, alu, etc have such texture.
Common types of advertising light boxes
Currently, with the need to order as an advertising light box, we have several types of advertising light boxes as follows:
hiflex light box: this is the most popular and commonly used cheap light box. They have good durability and the most optimal advertising costs, suitable for small shops and sidewalk businesses.
Double-sided advertising light box : this type of light box has 2 sides made from hiflex or mica tarpaulin. After completion, the construction worker will shoot directly perpendicular to the wall, the double-sided light box sign will be suitable for advertising shops at night. Double-sided signs are easier to see by pedestrians than the main ones.
Mica light box: this type is durable and aesthetically pleasing. The surface of the signboard will be a uv-printed mica plate, surrounded by an aluminum or stainless steel border. When lighting at night, it will have a more beautiful effect than hiflex canvas light box. The only downside is that their cost is 3-4 times more expensive than hiflex light boxes.
Ultra-thin led light boxes: this is a luxury advertising light box. , easy to disassemble, easy to change advertising content regularly. Good application in shopping malls, wedding parties, restaurants, etc. Ultra-thin light box is more suitable for indoor than outdoor.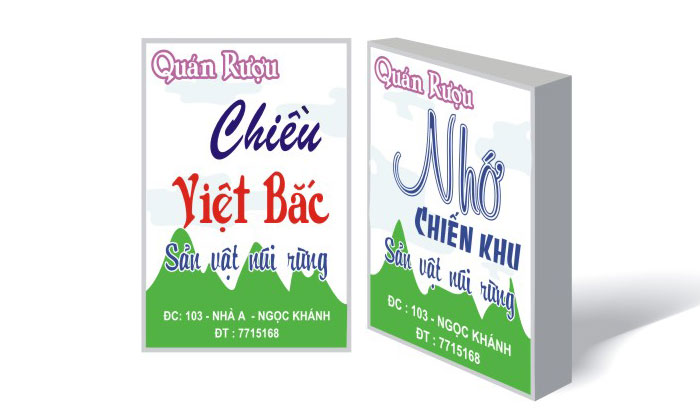 Advantages of using lightbox
Diverse in designs: the signboard has many different shapes such as: horizontal, vertical, square, round, ellipse, rotated, electronic screen,… Customers can choose the right light box for the right price.
Available in many colors: the current types of light boxes, customers can freely shape and color the background according to their preferences. Especially, when installing lights for text, it will create many special effects at night, helping to increase the ability to attract customers.